David commented: The photos in the magazine are not the best (very grainy) and have done what I can to enhance them.
The pictures were in need of some loving restoration... a part of one of the pictures may show you why...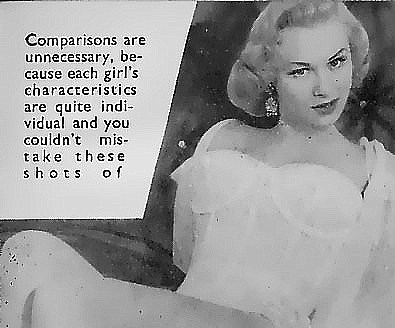 Sabrina looked as if she had been shot, and then infected with numerous horrific skin diseases, boils, scabs and acne.
After some work with Microsoft Image Composer's smoothing tool and smudge stick, Sabrina was back to looking as well as could be expected. It is, however a wake-up call to the Sabrinaworld. Each day that passes is slowly destroying the original quality of magazines dating back to the fifties. It makes you realise how urgent our mission is!
It's sort of like saving precious ancient Egyptian structures from the Aswan High Dam! So, fellows and ladies, dash to your magazines before time ravages them.
And if you have some Sabrina stuff, please read my guidelines for contributing Sabrina pictures.

And without further ado, please enjoy David Jackson's wonderful pictures. As usual, click them to get the full Sabrina imact.