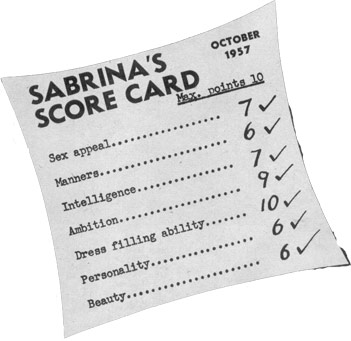 Peter Tipthorp reports on the gimmick girl...
I HAVE just left Sabrina at the theatre and I report, after spending a day with her, that the bulky blonde is not, as many of you suspect, a machine whose gadgets have brought her a lot of money.
Her gadgets certainly have something to do with her success. But she is no machine. She has got a heart. She has got feeling.
I admit, however, that it took a minor tragedy to melt down this ice-cool phenomenon. But melted she was. Before my very eyes.
The day began quietly. I was told that Sabrina did not rise until 11 a.m.
Anyway, by noon, I was sipping ice-cold drinks with the ice-cold blonde.
Sabrina, her manager Joe Matthews told me, had to go to North London to open a refrigerator shop. She seemed well suited for this job.
Her pale-blue dress delightfully revealed her upland scenery — a challenge to any mountaineer — and her battleship-length car looked sufficiently American to suit a President.
Manager Matthews had been running through the long list of invitations.
"I've had a letter from a women's institution in Leeds," he said. "They want you to go and speak to them about the secret of your sex-appeal."
"Send them one of my pictures," said Sabrina. "It will save my time and theirs."
I asked her whether all her dresses were low-cut.
She insisted: " I don't wear daring dresses. I'm just naturally restless."
"AT ONE PERSONAL APPEARANCE SHE WORE A DRESS BUTTONED-UP TO THE NECK," SAID MATTHEWS. "HARDLY ANYONE RECOGNISED HER."
On the way to the shop I asked Sabrina about her early days in show business. The days before people realised a girl didn't need talent to become a celebrity. The good old days.
"I had no agent," she said. "I had no manager, no contract, no parts. I was willing to give up a promising career for a job with prospects. But then Arthur Askey spotted me. I did lots of things. If I hadn't done them I wouldn't be where I am. I'm a very serious person at heart. I read magazines but I don't read books. There's a limit to culture."

Sabrina with the Marchioness of Lothian
The road in which the shop was situated was packed. Even though the temperature was in the 80's there was no sign of the ice-cold blonde melting. She looked almost frost-tipped.
As the policemen cleared the way for the car everyone cheered like mad.
This was no Royal visitor. No great actress. No fabulous entertainer. No Member of Parliament or a learned judge. This was an ordinary girl with an extraordinary bust. And people were cheering it.
A BAND WAS LAID ON IN FRONT OF THE SHOP. AS THE CAR PULLED UP AN OLD FELLOW WITH A BALALAIKA STRUM­MED OUT 'AIN'T SHE SWEET.' THE BAND FOLLOWED SUIT.
"They usually play 'Ready, Willing and Able',"commented Sabrina.
Inside the shop was a microphone. This was the big moment. This was what everyone had been waiting for. This was what the manager had paid £100 for.
"May I say," said Sabrina, "how wonderful it is to have this opportunity of meeting so many charming people. I don't intend to make a speech because I agree that women should be seen and not heard. Thank you very much."
That was it. The manager looked delighted.
"Everyone who buys a fridge this week gets an evening out with Sabrina," he said.
I understand he sold 60. But in the following week the number dropped to four.
Sabrina then agreed to give away ice-lollies. Fights began. People fainted. The crowd surged forward and a plate glass window was broken. Whether they really wanted an ice-lolly or whether they just wanted one handled, by Sabrina I don't know. Either way it's a pretty sickening thought.
''Don't push," shouted Sabrina. "You'll all get one. Take it easy."
If she had been handing out five-pound notes there would not have been more excitement.
"It's pretty rough," I said to Matthews.
"THIS IS QUIET," HE SAID. "SOMETIMES WHEN SHE DOES OPENINGS SHE DOESN'T EVEN GET INSIDE THE SHOP."

With good friend Steve Cochran
Someone grabbed a handful of photographs and threw them into the road. There were screams.
A police officer came forward.
"I hope you realise that if you throw pictures people are going to get hurt," he said curtly. "I don't want to take anyone to court."
Then Sabrina ate some sandwiches.
"What do you put your success down to?" asked a member of the staff.
"My sweet nature and a liking for nourishing foods," she replied icily.
"You follow the Jayne Mansfield trend, don't you?" said a bright young man, hoping everyone would acknowledge his remarkable observation.
"I don't follow anyone," snapped Sabrina angrily.
An old lady came up.
"I know all about personal appearances," she said. "I once saw Sootie open a children's fair. But it wasn't like this."
For all her superior airs and false sophistication I must say Sabrina had everyone at her finger tips.
She left the shop at 4.30.
We were nearing the West End when the accident occurred.
Sabrina was sitting up straight. The girl is a machine, I thought.
Suddenly a small dog ran from behind a lorry in front of us. Joe Matthews braked hard, but it was no good.
Then Sabrina started screaming. Tears streamed down her face.
"Oh, no!" she sobbed.
She cried all the way to the theatre. She took no notice of the black mascara that smudged her face.
"I shall never forget it," she sobbed. "It is the worst thing that has ever happened to me."
It was a sad ending to the day. But it proved one thing — Sabrina is not a machine. She's human. And rather likeable, at that . . .