VINCE HAYES takes exclusive pictures of that fabulous girl SABRINA
Some months ago we heard that the fabulous Sabrina was coming to Australia. Vince Hayes was the man who told us all about it, and jokingly we said: "See if you can get us a cover shot."
Jokingly, he agreed, we all laughed at his chances and the matter was then forgotten. Time passes and vince walked into the office one day, slapped a bunch of color transparencies on the editor's desk and remarked, very casually: "Might be a
cover shot there."
We looked them over, whistled, said "Wow!" a few hundred times and ran the blockmaker.
And that is how Sabrina comes to be on our cover this month. "How did you ever manage it?" we exclaimed. "How did you organise an exclusive sitting?"
---
"Well then, we imagine you had about five minutes of frenzied shooting before she rushed off somewhere for a more important engagement?" we enquired.
Vince evaded the question as deftly as he arranged the sitting... "I was rather stunned," he said. "I asked her to pose and she agreed." (What he didn't tell us was how he got close enough to ask).
"I had a full hour, she was very friendly and a most co-operative model," he relied. "She did most of the posing... knew her best angles of course... and she made me feel quite at ease."
It was just as simple as that. Britain's most photographed personality... on of the world's most sought beauties... and a keen freelance photographer. None of the problems one might expect of sparring with business managers, press agents, etc. Just a direct approach and a friendly response.
And what did Sabrina think of these pictures? She was so pleased that she invited Vince back to make some publicity shots for her next tour. He went back.
What is more, she agreed that Photo Digest should be the first publication to print the pictures which are in this issue. There are therefore published for the first time and we hope you like them. Other publishers interested in these shots can contact Vince care of us.
A historic advertisement featuring Sabrina in Photo Digest
Even more historic, a newspaper clipping by Sir H of a Sabrina appearance at a Sydney club.
And in the same Photo Digest I found this delight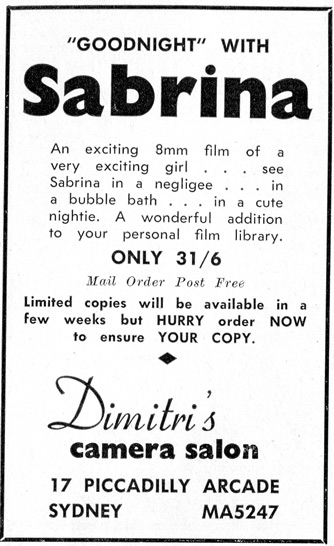 Do you have any Sabrina stuff? Please let me know