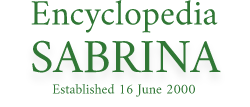 Contact me at Encyclopedia Sabrina
The Erotic Review
September 2003
It's what we've all been waiting for - Sabrina's first magazine appearance since 1965!
The Erotic Review contacted me to get a copy of Sabrina's publicity picture from Blue Murder at St Trinians and I happily obliged.
They didn't actually credit Sabrina, or even mention her, but I'm sure we're all pleased that her resurgence has begun in the twenty-first century!
Page Created: September 1, 2003
Last Changed: Sunday, April 10, 2016 12:13 PM
All original content © nylon.net 2008