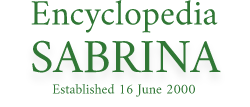 Sabrina in '66' Magazine

January 1960

Above, film premiere has Sabrina escorted by handsome Italian singing star, Toni Dali .

Sabrina's Breaking Records

Well, look who's going in for athletics - Britain's number-one glamour gal herself, SABRINA. Lucky man pacing Sabrina is Australia's ace miler, Herb Elliott.

Below, the record-breaking blonde gets ready to dive in at the deep end.

In all fairness, we must add that to date the only records Sabrina has broken are for glamour and form. The sporting activities are merely recreational.




[Did you know Sabrina was a Champion Swimmer at School? ]

In fact. she's happier on the side of the pool with her hula-hoop. Sabrina hula-hooping? That'a the promise of a wiggle we'll really
lihe to see!
Last Changed: Monday, November 21, 2016 2:50 PM
Do you have any Sabrina stuff? Please let me know

Back to the Sabrina magazine index page