Sabrina in the Modern Press
In chronological order, newest to oldest...
Whatever happened to Monica Rose after doubling her money?
The Independent, 22 June 2008
Added 30 Aug 2013
The news that there are plans to revive Hughie Green's Double Your Money has not been greeted with universal acclamation. It therefore falls to those of us who watched its first incarnation to enter, if not a case for the defence, at least a plea in mitigation.
Compared to most other game shows of the era, Double Your Money was cerebral stuff. Contestants chose one of 48 subjects to be quizzed on, some of which – like architecture, meteorology, Shakespeare and world religions – would be unlikely to pass under the dumbed-down bar of today.
Starting with £1, they progressed to the sound-proof booth where they had a chance to win £1,000, then equivalent to some £15,000.
But we watched it not for that but for Hughie's succession of hostesses. There were Jean Clarke and Nancy Roberts, whose undulating exits would not have disgraced a Carry On... film; Alice Earrey, a former tea lady; and Sabrina, aka Norma Sykes , for whose 41-19-36 figure the word "pneumatic" hardly did justice.
But outshining them all in quirkiness was a 4ft 9in accounts clerk who was so chirpily cheeky as a contestant that, two months later, she was brought back as a hostess. Her name was Monica Rose, the daughter of a Tube worker and a cleaner, and she was an instant star.
But, in private, she found the dislocation from old friends' lifestyles hard to take. There was a drugs overdose, a break-up from her boyfriend, and a Stephen Fry-style disappearance.
It was not until 1980 that she found the humdrum happiness she desired, marrying a Baptist lay preacher and working on a supermarket check-out. In 1994, she took her own life. She knew that fame and doubling your money was a dangerous cocktail.
---
And from a similar article from WalesOnline ...
Part of the show's success was down to the glamorous hostesses, among them a shapely siren named Sabrina (Norma Sykes) who, in the words of the immortal Raymond Chandler, had curves "to make a bishop kick a hole in a stained glass window".
Vintage Racecar April 2010 (Australia)
5 April 2010
Dear Mr. Mark

I have come to your Sabrina Site looking for more information about her. My Sabrina sighting is, I'm afraid, rather unexciting -- from the April 2010 issue of Vintage Racecar magazine, which features a cover photo of a car named Sabrina. I bought the magazine because of the beautiful car on the cover, and the photos of it inside. The author, Patrick Quinn, thinks that the car was named after Sabrina's visit to Australia. (The car was first built in 1959.) In the magazine article, there is a copy of a brochure for Bell and Howell projectors , with a picture of Sabrina on the cover -- just for those of us who were clueless as to who she was/is.

Well, as you must have already surmised, the photo was impressive enough that I looked for Sabrina on the MisInformational SuperDuperHighway, and found you right away.

What a delightful site you have! I have enjoyed it thoroughly. Thanks for all your time, effort, and humor.

Yours,
Doug.
Thanks, Doug. And here's the article (edited)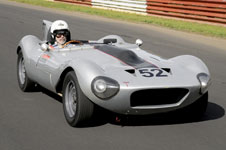 1959 Austin Special
Patrick Quinn
It's interesting how things happen. People you meet throughout your life who don't necessary become friends, but you run into them occasionally and they form part of your life and in their own way influence you, making you who you are. It is a small world, not only for acquaintances, but for cars as well, especially if you are involved in historic motor sport.
For instance, take the Sabrina Austin currently owned by Barry Naylor of Queensland, Australia. While the car was built in the Australian state of Victoria in 1959, it first came into my life back in 1977. My good friend Wally Gates had bought an Australian special made up from Austin-Healey parts including a supercharged engine.
He told me that the car was known as Sabrina and he had bought it from the seller in Victoria some time back and had been working on it almost day and night. The 1978 annual All-Historic race meeting at Sydney's Oran Park was fast approaching and he wanted to be in it. I had a close look at the car and being a little one-eyed thought it was far from being close to any Austin-Healey I had seen. Fibreglass body, tube chassis and a very unfamiliar cockpit. Sure it had what looked like a 6-cylinder Austin-Healey engine, but that was about it.
Wally did make it to Oran Park, but Sabrina was breathing atmospherically through twin SUs as he had lost the argument with the blower.
Lost Touch
Wally sold the car not long afterwards, more out of frustration than anything else and went on to build a between-the-wars special based on an Austin Big 7, but that's another story. For many years later I lost touch with Sabrina as it seemed to have gone to that big garage in the sky.
Move forward a couple of years to 1979 and the same Alan Jones set off to the Winton circuit in Northern Victoria to watch the races and, as he was wont to do, help out his fellow Austin-Healey owners.
It was after Saturday's practice that Alan had managed to get a lift from Terry Cornelius, another Austin-Healey owner. They were heading away from the circuit when their car was hit head-on by another that had swung on to the wrong side of the road. Tragically Alan was killed and Terry spent some time recuperating in hospital. Unbeknownst to me at the time, Sabrina was being trailered behind Terry's car when the accident occurred.
Move forward again to only the last few years when Sabrina had resurfaced in the hands of Barry Naylor and is now being enjoyed by enthusiasts on circuits throughout Australia.
Sabrina Austin
So just what is Sabrina ? Avid mammary gland watchers of a certain age would have fond memories of the 1950s British actress of the same name. Or perhaps you would prefer to be reminded of Audrey Hepburn in William Wilder's 1954 film Sabrina .
Good thoughts both, but for these purposes it's actually an Australian-built special constructed in country Victoria in 1959.
Laurie Knight lived in the Victorian country town of Benalla, earning his living through the running of an Esso service station and building fiberglass speedboats on the side. On the weekends he had built up a name for himself from competing in his Austin-Healey 100/6. No doubt seeing the value of his Austin-Healey rapidly disappearing downhill with every race meeting, he set about in 1959 with the assistance of local mechanic Ian Welsh to build a Vanguard chassis-based special fitted with Austin mechanicals that was more suited to the dirt circuits that accompanied almost every sizable country town at the time. Knight christened the car his pet name, "Sabrina." The English actress of the same name hadn't long beforehand visited Australia and her ample proportions were front page news in the daily press.
The Austin mechanicals came about from an opportunity that Laurie couldn't resist. The story goes that the local police constable bought a brand new Austin A95 sedan, and local history says that on the night before he and his family were about to depart on a touring holiday his son took the car out for a spin. Well spin he certainly did, so much so that he rolled it after leaving a bridge sideways and somehow hit a tree 14 feet above the ground. Needless to say the car was completely written off and there is no record of what happened to the young driver.
For the whole story, see the April 2010 issue of Vintage Racecar .
The Noughties: a fond(ish) farewell
The Telegraph, 11 December 2009
... a brief trawl through the history of the 20th century reveals that we were no more obsessed with vapid celebrities in the Noughties than we were previously.
My favourite example is Norma Sykes, whom Cosmo Landesman identified as Britain's first celebrity bimbo in his 2008 book, Star Struck .
Sykes was a blonde with a 41.5in bust who became so famous after her appearance on Arthur Askey's television programme in 1955 that more than 4,000 people turned up to see her open an ironmongers in Sheffield.
Known as Sabrina – like Jordan, she only had one name – she dominated the tabloids for several years, prompting exactly the same sort of hand wringing about the shortcomings of modern celebrities that Victoria Beckham does today.
The Age, 2004
From "What I've Learnt" by Ron Blaskett, vintage ventriloquist and the companion of wooden Gerry Gee.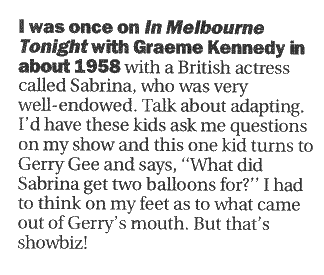 The Mail on Sunday 2002

September 1, 2002 : the famous article in 'The Mail on Sunday' bringing us sadly up to date with Sabrina today.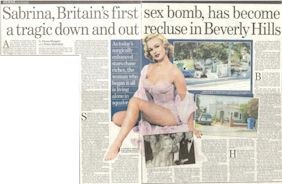 Stockport Express 2002

A "me-too" article from the Stockport Express , 4 September 2002 .
Most of it is ripped from the Mail on Sunday article (see below), with a few references to Stockport added.
It says:
Fifties pin-up star now living in squalor
IN her hey-day she was described as Marilyn Monroe, Diana Dors and Jayne Mansfield, all rolled into one. Stockport-born superstar Sabrina was the sex kitten of the 1950s and lived a dream lifestyle envied by millions across the world.
But it seems that the dream has finally come to an end. According to a national newspaper report, Sabrina, whose real name is Norma Sykes, has become a tragic recluse in Beverly Hills.
Her story is now one of unfulfilled dreams as she lives a hermit-style existence in semi-squalor in a Californian suburb, rarely venturing out of her Spanish-style house at the intersections of three ten-lane motorways, and under the flightpath of LA's Burbank Airport.
The house has been left to go to rack and ruin through years of neglect on a street nicknamed 'Smog Central'.
Sabrina, born Norma Ann Sykes in 1936, lived on Buckingham Street, Heaviley, for about 13 years. The blonde bombshell, who was a pin-up of the fifties, founded her showbiz career on the twin assets of her 41-inch bust.
Sabrina, who attended St George's School on Buxton Road, and was once a school champion breast stroke swimmer, bounced onto the showbusiness stage at the age of 18 on an Arthur Askey TV programme - 'Before Your Very Eyes'.
But stardom did not come easily. After spending four years in hospital with rheumatic fever, she spent all the money she had saved on a trip to London when she was 16, where she quickly made her mark as a model.
Sabrina's big break came in 1955 when she was spotted by a BBC producer. It was then she appeared on the Arthur Askey show, where she picked up the dumb blonde tag, which has followed her ever since.
At the height of her career, she was considered the epitome of femininity and appeared on the cover and centrefold of Britain's largest selling magazine at the time - the Picture Post. She was offered roles in a handful of movies and found fame as Virginia in Blue Murder at St Trinian's in 1959, despite the fact she was not given a single line.
Sabrina was a star of dynamic proportions, her 41-17-36 figure drew attention wherever she went. She insured her breasts for £100,000 and was wined and dined by European royalty. Frank Sinatra wanted to date her and 10,000 fans would turn out just to catch a glimpse of her.
Intent on carving out a career in Hollywood, Sabrina made several attempts to break into Tinseltown, before giving up and quitting showbiz after she married a wealthy Hollywood gynaecologist in 1967.
But according to reports this weekend the voluptuous Stockport beauty and darling of post-war Britain, is now broken and alone living in squalor.
Melbourne Herald-Sun, 2000

Sabrina was big in Australia - as she was wherever she went. On June 2, 2000 then Melbourne Herald-Sun finally gave Sabrina the coverage she so magnificently deserved.

Stockport Local News
FORTY YEARS AGO
STOCKPORT glamour girl, Sabrina, caused confusion to her relatives in Shaw Heath. She announced her engagement to American comedian Sonny King was on, but he was just as adamant it was off.
"I don't know what to make of this; the last time I heard from Sabrina was a card at Christmas showing her sitting on Frank Sinatra's knee," said her cousin, Stuart Evans. Sabrina, formerly known as Norma Sykes, of Buckingham Street, Heaviley rose to fame with her dumb blonde act on the Arthur Askey TV Show.
Sorry - don't know the source or date of this snippet.
Storm in a D-cup when
Sabrina sang at Nelson
Looking Back, with Eric Leaver

SHE was the glamour-puss of black and white TV - the sweater-girl, dumb blonde who stunned 1950s viewers with her own 3-D effect. But back in 1956, Sabrina (real name Norma Sykes, of Blackpool [though born in Stockport - ed.] ) was looking for a career change a move up from the silent sex-symbol character she played in comedian Arthur Askey's "Before Your Very Eyes" show.
And it was in January that year that she chose East Lancashire as the place to make the switch - breaking her silence to appear as a solo vocalist at Nelson's Imperial Ballroom. Sabrina was also rapping out publicity for her "saucy" Sunday newspaper story, seen billed on the wall behind her with the headline "I'm not dumb!"
She never made the big-time as a songstress and had a hard time making herself heard at the outset when she took the stage at Nelson. For as the Northern Daily Telegraph reported, male admirers crowded round the bandstand carried on whistling and shouting for so long that she could hardly get in a note in edgeways.
Among her fans was 32-year-old Nelson singer Terry Dale who, that night, rushed from a concert at Burnley to croon the special "Sabrina Samba" number that local photographer Albert Morris and butcher Alan Ashworth composed in her honour and later presented a copy of the score to her backstage.
(From http://www.thisislancashire.co.uk)
Sabrina in the 'Evening Star' 2000
Sabrina bewitched us with her silence
November 14, 2000
COFFEE SHOP QUEEN: 21-year-old TV star Sabrina was everything the 1950s man could dream of:
dumb, blonde and stacked with talent
MEMORIES of the Gondolier coffee bar in Ipswich and its grand opening by Fifties television star Sabrina, referred to on this page recently, sent me digging through the Star Library.
Now girls don't dive for the telephone or write to the editor, I am quoting from a report in the Evening Star written in October, 1956 when political correctness was an accurate speech by Prime Minister Anthony Eden!
" crowds broke through police cordons and tore down a canvas canopy in Ipswich yesterday in their effort to get a closer look at Sabrina - Britain's number one dumb blonde.
Sabrina (vital statistics 39-19-36) was guest of honour at the opening of Ipswich's first Espresso coffee bar, the Gondolier in Upper Brook Street.
She wore a tight black suit with a plunging sequined neckline and carried a mink stole slung casually over one arm.
Pulling the lever for the first cup of Espresso coffee she said, "I am known as the dumb blonde. If I say too much I will lose my reputation."
Everybody, I am sure, will wince at the wording of this report from 44 years ago - attitudes have changed for the better.
Some of the magic in the grey days of 1956 would have gone if folks knew Sabrina, before being promoted as a "TV star", was just a regular 21-year-old Londoner named Norma Sykes.
John Sparks of East Bergholt (with his own 60s terminology) recalls:
"Ah, the Gondolier! Officially opened, by Sabrina, in 1956.
Phil Bowen who now works at Mark's hairdressers in Woodbridge Road, Ipswich, was a ten-year-old in the crowd the day the Gondolier opened and got close enough to make contact with Sabrina through the car window. The exact details will have to remain unpublished, but I gather he grew up quite a bit that day!

Write to David Kindred at the Evening Star, 30 Lower Brook Street, Ipswich, IP4 1AN
Reading Eagle (Pennsylvania, USA)
Sunday March 29 1959 (p.33) - thanks to Google News search
"Australians admire the same things we [Americans] do, including an English television character named Sabrina, who is even more anatomically improbable than Jayne Mansfield."

Sabrina Articles in Magazines
Be sure to check out the SabrinaMags to find substantial articles about Sabrina.
Lost for a while 2007 - 2008. Restored from backup Jan 27, 2009. Oops!