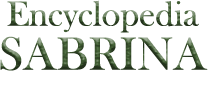 Contact me at Encyclopedia Sabrina
Sabrina at the premiere of
Yield to the Night, 1956
British Pathé Sabrina newsreels:
Do your own Sabrina newsreel search

Click to see the TV SHOW. (1.2M, WMV)
NOTE: If clicking the link link does not work, RIGHT-click it and select "Save Target As" or "Save link target as". It will be saved to your hard disk where you can play it.
---
Film Fanfare No. 19, 1956 (edited highlights featuring Sabrina)
Sequence showing of "Yield to the Night" film premiere. Sabrina's arrival.
It amazes me that the only thing he noticed was the "unusual buckle on her gown". He must have been either gay or blind...
Page Created: May 4, 2003
Last Changed: Monday 2018-12-17 11:56
All original content copyright © nylon.net
All Rights Reserved.
This page was last modified: Monday 2018-12-17 11:56