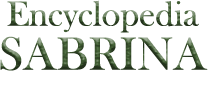 Contact me at Encyclopedia Sabrina
Double Feature
Beautiful Britons #8, June 1956
Thanks again go to David J for this lovely pic of our Sabby.
Sabrina, well-stocked with British glamour, meets up with LEE SHARON, pert pinup from the States at a Mayfair hotel.
Looks like they're exchanging mutual admiration, in which case a bouquet to both of them for being such nice girls.
---
Related pictures found elsewhere. This meeting was in September 1959.
The '66' mag notes that "Lee enjoys a spot of feminine chit-chat with that other famous
shape, Sabrina, who appears with her in the Prince of Wales
show."
Page Created: 2 Jan 2006
Last Changed: Thursday 2019-02-14 12:12
All original content © nylon.net/sabrina 2008