Sabrina's Second Australian Visit
The sorry twisting tale, as told by the newspapers of the day
Many thanks go to Sir James C for unearthing these fascinating clippings of a forgotten time in the SabrinaLife.
6 November 1961
Sydney Morning Herald
Sabrina, the blonde English actress who toured Australia three years ago, may be back in Sydney next month.
A spokesman for the Revue nightclub, which opened in Sydney last week, said that Sabrina had accepted offers to come to Sydney to appear at the nightclub. He said the engagement would also mean television appearances for her during her stay, which is expected to be about two months.
Sabrina arrived in Australia in November, 1958, and stayed about a year.
Her movements since have been difficult to follow, but she is now in New York.
The English star's most important television performance on her last Sydney visit was in the Stan Freburg Show which was produced by ATN7.
[Picture, captioned "Sabrina, pictured on her visit to Sydney three years ago", was cut off]
20 December 1961
Daily Telegraph (Australian)
Sabrina has a new Twist
SHE'S WELL ABREAST OF THE TIMES
I have the exclusive news that SABRINA returns to Australia on Monday - and only one column to tell it in.
You've probably never cogitated the problem, but fitting Sabrina into a single column is equivalent to trying to horizontalise (new word) the Tower of Pisa. Straight lines and Sabrina don't match.
Anyway, she arrives on Monday purely on a pleasure visit - as the guest (for a month) of entrepreneur LEE GORDON .
Gordon, incidentally, next week takes over a city nightspot and converts it to The Twist.
Back from the U.S. yesterday, he's convinced the The Twist will sweep the world like rock-'n'-roll - mainly because anyone from 16 to 66 can learn how to do it in 10 minutes.
I've had a lesson on how to do the dance from LAYA RAKL. I now intend to line up for a refresher course from Sabrina. I'm just lucky, I guess.
I like the tongue-in-cheek subtext about the "purely pleasure visit" as a guest of Gordon who "incidentally" is starting a club. It seems people were a little cynical about Gordon's press releases about the reason for Sabrina's visit - Ed.
2 January 1962
Telegraph
I was the first to report that Sabrina was due here yesterday. Now let me be the first to report that she didn't arrive - but will be here on Thursday.
A plaintive cable (signed "love, Sabrina") yesterday explained that she hadn't been able to get her U.S. tax clearance before everything in the American public service stopped for New Year. It appears that the public service is the same the whole world over.
4 January 1962
Mirror (Australia)
Sabrina wriggles a Twist
Miss Norma Sykes wriggled her body in what were possibly the tightest white pants in the world, shook her arms, nodded her head, and said: "Aw, it's no good without the music."
Miss Sykes, better known as Sabrina, was giving a demonstration of The Twist at Mascot Airport.
It is two years since Sabrina left Australia for the United States. She returned today, wriggling from the plane, across the tarmac and to the Customs Hall. She was a vision in white.
A bow in her hair
She was wearing the pants ankle-length with a strap under the instep to keep the bottoms down. A white angora cardigan, also tight, and a turquoise bow in her platinum blonde hair made up the ensemble.
Sab[r]ina said: "I don't have much trouble getting my slacks on; it's getting them off that hurts. They're made of Lastex* and stretch."
How are you, darl?
She couldn't remember the name of her former fiance, whom she met in Melbourne two years ago.
"Anyway why give his name publicity now?" she asked. As Sabrina walked from the plane to the Customs Hall, a woman on the observation deck of the overseas terminal yelled, "Hullo Sabby, how are you darl?"
Sabrina confided later, "That was a dear friend of mine, and a great fan. Her name is Flo."
4 January 1962
The Sun (Australia)
Sabrina returned to Sydney today wearing skin-tight slacks. Miss Norma Sykes, as she is better wnokn [sic] in Lancashire, said she no longer worried about her vital statistics.
"I haven't been asked for my measurements for the last two years and I wouldn't have a clue as to what they are," she said.
Sabrina said she was here for a month's holiday. She was last in Sydney two years ago. Since then she has made nightclub appearances in America.
She has a strong American accent and all traces of her north-country English accent have disappeared.
5 January 1962
Daily Telegraph
A brave Lee smile
Yesterday afternoon, in the cause of duty, I spent an earnest hour with SABRINA in her Chevron Hilton suite, where she is the guest for three or four weeks of entrepreneur LEE GORDON .
I asked Gordon if he had romantic inclinations toward Sabrina. The former fiance of stripper Lee Sharon only smiled coyly.
I asked Sabrina if she were going to marry Gordon. "Lee?" she said, in the American accent she has acquired since she was here two years ago. "Good Lord No!"
I later relayed this comment back to Gordon. "Well," he shrugged, "a man can't get killed for trying." Brave words.
She was amiably vague about what she's been doing in two years: "I've been working all the time - my nightclub routines and stuff. And I've just made a picture in Hollywood. It's called 'Satan In Heels' [sic] and it's an American version of 'La Dolce Vita' and it's very good."
Why was she back in Australia? "Lee asked me, so I came. I was kinda homesick for the place. I get homesick for England and Australia. I had a spring-high time here."
I told her I had hoped she'd give me a lesson in the Twist. She was delighted. She slapped a record on the record-player and went to town. It wasn't much of a lesson. I didn't learn anything. I didn't seem able to concentrate. With the scenery moving so quickly, I got that eerie, away-from-it-all feeling you get in an express train at 80 miles an hour.
8 January 1962
Telegraph
SABRINA SNIPPETS
Two bits of news from the SABRINA front:
At 11.06 precisely on Friday night Sabrina was Twisting with verve and elan at LEE GORDON'S establishment when her dress gave a screech of despair, and split (down the back) from stem to stern. A series of hurried dashes into a coat, into a taxi, into her hotel, and into another dress had her back Twisting within the half-hour.
On Saturday night a colleague was honored with a personal Twist lesson from Sabrina, invited her back to his table for a drink, was pouring it for her with glazed eyes fixed on her - when his wife gave him a thundering jab in the ribs and said: "You'd do a lot better if you took the cork out of the bottle!"
23 January 1962
Sun
[Something - missing] BY SABRINA (Who can't do it)
Voluptuous English star Sabrina took a deep breath in the early hours of today and said, "I hate the twist."
She then took a long, seemingly defiant gulp from a glass of champagne and added, "There, at last I've said it."
Sabrina said she felt very strongly about the Twist. So strongly in fact she called a Press conference at one o'clock this morning at Chequers night-club...
[text missing]
...Sabrina went on: "I agreed to go on with shows only in order to keep faith with the public," she said, frowning into her empty glass. "But I hated every minute of it."
Another reason for Sabrina's intense dislike of the dance is that she claims she has lost a lot of money over it...
[text missing]
... talk with him last night and he says he feels like coming straight over."
Sabrina said she planned to sue Gordon.
[I'm going to see if the Sun can provide a copy of this article so we can get the missing text - Ed. ]
24 January 1962
Telegraph
Sabrina takes a long look at her contract
Sabrina is a wide-eyed and innocent little girl who is lost, quite lost, in the jungle of the big city which is Sydney.
"I just didn't know," she told me yesterday, "that this sort of thing could happen to me."
Sabrina is in a state of dispute with entrepreneur LEE GORDON (who's in the U.S.)
"Here I am, without a manager or anything to protect me - all I have is a written contract," she said. I had a look at the written contract - in the picture [missing - sorry! Ed.] you see Sabrina reading it - and good reading it makes, too.
It says, in part: "In consideration of the sum of 1000 Australian pounds plus a £30-a-day penthouse at the Chevron Hilton hotel plus an air ticket from L.A. to Sydney to L.A. to London, I agree to arrive in Sydney, Australia, before January 1, 1962, to promote through publicity the theatrical ventures of Lee Gordon..."
Said Sabrina yesterday: "I learnt the Twist before I came out here - you know I can do it, because I danced it with you. But you can learn it in five or 10 minutes. I didn't agree to perform it publicly. I'm not a Stadium act, I'm intimate.
"I need a band with a full backing. And I need to be close to people, so they can see me properly. I was happy to play along with Lee and do the best I could for him. He's a nice fellow."
"But dance the Twist? I couldn't!"
She said she'd been told to get in touch with a financial partner of Lee Gordon's - Mr ABE SAFFRON . But all her efforts to contact Mr Saffron had failed. I tried myself last night but couldn't get in touch with Mr Saffron.
Said Sabrina: "I've had nightclub offers to stay here. They've even offered to bring out the man I aim to marry - he's JIMMY DURANTE'S partner, but I won't tell you his name [Sonny King - see below] . He's much younger than Jimmy Durante, of course."
Out of the penthouse
"But everything is so mixed up I don't know which way to turn. I don't want to be hard on anyone, least of all Lee Gordon."
"I've even moved out of my penthouse into an ordinary suite to save him money. Anyway, it's easier to watch television in this suite - I can see it from my bed, instead of having to get up and sit in a chair in the sitting room."
"I could afford to pay my own fare back to the States, but I'm sitting on my contract, where it's all in black and white. I believe in sticking out for my rights."
In February 1962 came the bizarre incident where Sabrina seemed convinced that she was going to marry Sonny King, but Sonny seemed convinced that she wasn't. Read the entire Sabrina and Sonny King Incident.
8 April 1962
Telegraph
SABRINA LEAVES AUST. - "SHE'S HAD US"
Bosomy blonde showgirl Sabrina stormed out of Sydney yesterday declaring that she "never wants to see Australia again." Sabrina left for San Francisco angry and broke.
She arrived at Mascot airport 15 minutes before the departure of her plane with 316 lb [158 kg] of excess baggage. She said she could not afford to pay the full freight for the excess baggage.
"The plane ticket cost me my last cent," she said. I've been out of work in Sydney for almost two months."
Sabrina arrived in Australia three months ago to promote Lee Gordon's Twist Show. Sabrina said she was booked to appear in a Folies Bergere show in Las Vegas later this year.
29 November 1962
Sun
CARACAS, Wednesday [capital of Venezuela]
Sabrina, Britain's voluptuous blonde beauty, will return home next year after four years training to become even more eye-catching.
Asked whether she would be typed as straight-girl for a comedian, she said, "I was never very straight. I have never minded people staring at my figure - I hope they never stop - but I wanted to learn to do more," she explained after a hotel performance here.
"I left England to get experience and develop the routines I learned in Australia and the U.S."
Sabrina now has a night-club repertoire of specialty songs, dancing and jokes. But her main attraction continues to be the vital statistics, 41.5-17-36, well-displayed in low-cut costumes.
"Through the roof"
She has made two...
[text missing]
...she smiled.
For five years she had polio, then osteomylitis, a bone disease. Cured at 15, she became a jewellery designer using skilled learned in occupational therapy.
"If it hadn't been for a contest for a spot on a television show in 1954, I'd still be a jewellery designer - ugh!" she said.
She became famous for doing almost nothing but appearing in bikinis on television.
Slip of the tongue
She plans to return to Britain after a contract in Johannesburg. Her reception by the Latins could be illustrated by the recent slip of the tongue of a master of ceremonies.
Instead of introducing her "con mucho gusto" (with much pleasure) he said "con mucho busto."
Editorial
One wonders what really happened during this ill-fated return visit. Sydney was never kind to Sabrina, but things sound they turned decidedly hostile in 1962.
Perhaps Lee Gordon's fortunes were to blame for his apparent contractual failings... Here is revealing extract from a book, Behind the Rock by Jon Hayton & Leon Isackson...
"On January 1, [the R'Jays] were invited to the Peppermint Lounge where Lee Gordon was promoting The Twist, a new dance craze started by Hank Ballard and popularized by Chubby Checker in the USA..."
"Lee Gordon imported American Twist band, Dianne & the Peppermints, for the opening of the club but despite all the publicity, the club soon folded. After a bout with drugs and the failure of an unsuccessful plastic-paint venture, Lee Gordon was falling deeper in debt. His promotional assets were dwindling and his Leedon recording label was taken over by Festival. The Lee Gordon Empire was crumbling."
"The story at the time was that Lee even tried to get Elvis to come out to Australia for a million pounds to pull him (Lee) out of the red. Negotiations with the Colonel broke down in Hawaii when Lee's financial backers, who were mostly gangsters, pulled out at the last minute."
The book also features a poster that just might have a whiff of Sabrinastuff - that tiny waist is as good as a trademark!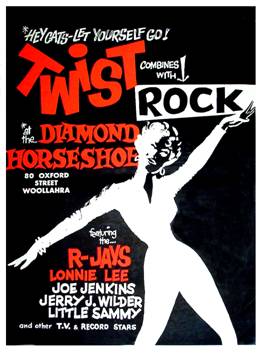 Lee Gordon died in 1963.
*Lastex, a trade name for an elastic, two-way stretch textile from the fine thread of Latex, a chemically modified rubber. Introduced about 1925.