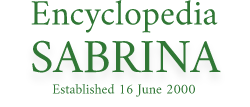 Contact me at Encyclopedia Sabrina
Privacy Policy
for nylon.net, including the Sabrinastuff site
1. I never sell email addresses of people who write to the site.
2. I never publish email addresses without the owner's written permission.
3. I will never send you unsolicited commercial mail. I may need to email you personally to seek further information or follow up on emails you sent me.
4. I will never disclose your real name unless you say it's OK. Give me an alias to use.
5. I will never publish addresses or phone numbers.
6. By default, I may choose to publish selected contents of your SabrinaEmails if they are interesting. If you prefer your email NOT to be published, please say so in your email.
Mark
Webmaster of nylon.net
Page Created: August 17, 2003
Last Changed: Saturday 2020-10-24 13:43
All original content copyright © nylon.net
All Rights Reserved.
This page was last modified: Saturday 2020-10-24 13:43