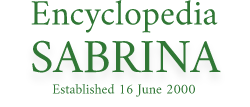 The ones that got away
There is nothing more frustrating things in life than getting THIS close to a good Sabrina picture and end up not being able to grab it and savour its creamy Sabrina goodness. Well, I admit, there might be things that are more frustrating to other people. We all have our issues.
Anyway. There arise tantalising Sabrinathings on eBay and similar entities that cannot be captured by the Sabrinasite. Sometimes it's because the seller won't post to Australia. Sometimes it's because I lose the auction. Sometimes it's because the asking price is OUTRAGEOUSLY exhorbitant. For example, a starting price of $20 for a magazine plus $US10 postage for a single grainy pic of our Sabby. Bastards! I think they know there's a sucker out there who needs the succulent richness of Sabrinastuff and ... ah... drifting off again. Anyway... grrr!
OK. There are tempting Sabrinabits that can't be captured. This is their page. The quality is too crapworthy to warrant inclusion on a picture page, but it is Sabrinastuff and cannot be tossed away willynilly or even nillywilly.
This is the page of the ones that got away. If you have them, I would love to rummage around in your goodies. If you have thrashing Sabrinafish in your bucket, please let me stuff and mount it here for all the world to honour you.
Please contact me . I'm the sad one at the left side of the pier with four idle rods and a wistful expression...
Poor missing Sabrinafishies
TV MIRROR, April 2nd, 1955
MODERN MAN 1959 YEARBOOK OF QUEENS
Vue Magazine "Karen Klause/Princess Domay" July 1960
PHOTO-August 1964
PEOPLE TODAY-Oct. 1957
TEMPO-Nov. 15, 1955-Anita Ekberg Cover
TEMPO-Sept. 4, 1956-Comeback For HORROR Movies
Weekly News- 28 july 1956
Found on eBay 9may09. Too expensive at £8 starting bid!
All original content copyright © nylon.net
All Rights Reserved.
This page was last modified: Thursday, January 14, 2016 1:43 PM
How you can support Sabrina .
Created: 28 June 2009
Last Changed: Thursday, January 14, 2016 1:43 PM