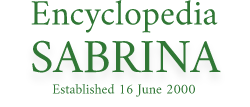 Sabrina and the piano
Do YOU have any Sabrina stuff?
This is a single photoshoot found by Lord Stuart G and lovingly forwarded to the Sabrinasite.
The photographer, location, date and purpose of the shoot are unknown. If you have any clues, please let me know !
A late entry! April 2015 - sadly watermarked over vital regions
All original content copyright © nylon.net
All Rights Reserved.
This page was last modified: Thursday, January 21, 2016 11:47 AM
How you can support Sabrina .
Created: 22 May 2012