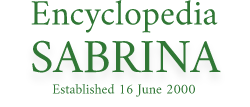 Contact me at Encyclopedia Sabrina
Sabrina and her parents
Sabrina rarely went far from her beloved mother, Annie Sykes.
Annie accompanied Sabrina to Australia and often helped make Sabrina's dresses.
Norma's mother, Annie (neé Haslam ) was a seamstress and had bright ginger hair. Her father, Walter Sykes , worked in Mechanical Engineering (he was not a coal miner) and was a natural blonde and had curly hair. Norma Ann was a natural blonde (though she often wore blonde wigs too.)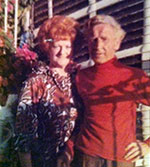 Sabrina's parents, Annie and Walter Sykes
Date unknown.
Enjoying a quiet evening at home, Sabrina discusses a new gown with her mother who makes many of her dresses. Dad looks sad because his pools have failed to come up again.
Undated photo. It looks like Sabrina is quite tired. Caption:
Mum keeps and eye on her glamorous daughter. Sabrina goes to a party.
Whenever SABRINA appears in public - her mother MRS SYKES is never very far away - for Mrs Sykes is responsible for the glamorous gowns that her curvaceous daughter wears. Mrs Sykes is seen here just behind Sabrina - casting a critical eye on the skirt of the latter's newest gown - when she attended a party in London yesterday.
Page Created: 9 April 2013
Last Changed: 9 April 2013
All original content copyright © nylon.net
All Rights Reserved.
This page was last modified: Friday, October 21, 2016 11:49 AM