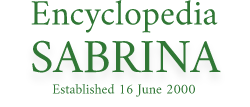 Contact me at Encyclopedia Sabrina
Sabrina
at the premiere of
'The Story of Ruth'
1960
With many thanks to Anthony of Stockport, who generously sponsored the delivery of the DVD containing this unexpected newsreel.

It's the 24th of June 1960. Sabrina attends the premiere of the biblical film 'The Story of Ruth' in New York.
Behold the Sabrina Spectacle by clicking here! (11M, DivX format)
"Sabrina: charming, celebrated entertainer from England"
Story of Ruth
New York, America
Date: 27/06/1960
New York's festive summer theatrical season is ushered in with the premiere of the CinemaScope version of 'The Story of Ruth'.
Bob Shapiro welcomes Elana Eden, who play the title role in the drama.
The 'Naomi' of the film - Peggy Wood is in attendance.
Israel's Envoy to the UN. Arich Eshel and his wife are among the many notables at the Gala, which includes the Spyros P. Skouras.
The crowds see Peter Falk, Victor Borge with his wife, Sabrina, Ina Balin.
Page Created: 23 September 2009
Last Changed: Thursday, June 9, 2016 12:18 PM
All original content copyright © nylon.net
All Rights Reserved.