I HEAR that SABRINA'S nerves aren't what they should be these days.
So she is entering into an extraordinary arrangement with that fashionable hospital, the London Clinic. It is this: She will live in a sound-proof room at the clinic.
Yet each evening at five she will leave for the Prince of Wales Theatre to do her twice-nightly show
Afterwards, at 11:15, she will return to the clinic.
I Won't
I SAW Sabrina in a Chelsea TV studio yesterday. She was snapping: "I won't do it. I won't."
She was letting fly at her manager JOE MATTHEWS.
"Don't know what's got into her ... I only want her to do a 6-minute TV spot," said Joe. Sabrina calmed, then agreed to do the spot. "I feel so run down, jumpy, sorry for myself," she said . Her dresser, sixty-two-year-old plump MAUDE WRIGHT, chipped in: " Sabby has had a dreadful night. She kept walking about. She didn't sleep."
I Must Rest
SABRINA drawled: "'This morning I saw a specialist. He said that I must rest."
Maude told me why Sabrina's nerves are twanging: "She lost a £150 dress. It was stolen from her car on Saturday. Dustbin lids clang outside her flat, concrete drills screech on a building site nearby ... all when she's trying to sleep in the morning."
Last night I asked the London Clinic whether I could rest there in a sound-proof room as a patient, yet visit my office every day.
They said: "This sort of thing isn't usually done."
But then I'm not Sabrina.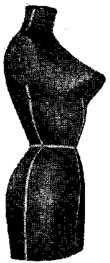 Everyone knows what Sabrina looks like... so just for a change here's a profile of her dressmaker's dummy.