This was the something... Sabrina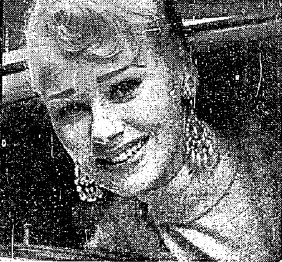 THE Stock Exchange is used to sensations. But nothing quite like yesterday's sensation when Sabrina made a visit. The oldest brokers could not remember bigger crowds, not even on the days of devaluation and going off the gold standard. Work virtually stopped for 20 minutes. One man collapsed and had to be taken to Bart's Hospital.
Sabrina loved it. She cooed down at the packed "House " from the visitors' gallery and said : "I must think about investing in shares."
Her manager, Joe Matthews, told her: "Wave to them. Blow them a kiss, honey."
Sabrina said: "I couldn't. I would feel an idiot waving at them. I'd rather go down among them."
This suggestion alarmed 82-year-old broker Major Max Karo. Sabrina was his charge at the Exchange. He is president of the Stock Exchange Cadets Old Boys Association — and Sabrina is their pin-up.
He steered her towards the exit: "No. no. You can't. Only members allowed. Please."
'No idea'
Major Karo tried to explain the Stock Exchange to Sabrina but admitted later: "She could not understand it at all. She had no idea what the Stock Exchange meant."
Said Sabrina: "It was all very interesting. Amazing. I expected it all to be so sacred."
I am not sure whether it was a result of Sabrina's visit or the prospect of a bus strike, but most share prices fell yesterday.


And now I have more news of Sabrina — and that spot of bother about parking outside Lady Violet Bonham Carters home . Sabrina is moving from Hyde Park-square. She told me so yesterday, on the morning after Lady Violet called the police and had Sabrina's car moved from outside her front door to another place in the square.
She said: "I am moving in a few weeks. Nothing to do with Lady Violet or the police.
"I made up my mind to move some weeks ago — a lovely flat overlooking the Serpentine and Hyde Park."
She added: "I expect I shall get home late tonight or early tomorrow. And I will park the car again anywhere in the square that happens to be available."