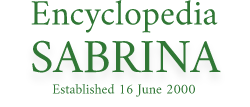 Contact me at Encyclopedia Sabrina
The Police - & Parking
Daily Express
30 April 1958
by Basil Cardew
SABRINA parks her large American car outside Lady Violet Bonham Carter's flat in Hyde Park-square.
Lady Violet phones the police. The car is moved.

In Sabrina's absence the bright white and yellow saloon is driven precisely 16ft. across the road to an empty spot outside her own front door.
I suggest any indignation should be based on a wider and more bewildering principle than a petty parking inconvenience.
That principle is: What are the rights or the citizen and what are the powers of the police?
Every night and in every city people are driving to their homes and leaving their cars at the kerbside adjacent to their doors.
Are they to maintain a ceaseless vigil in case a policeman will demand their car's removal? And can the police, on failing to find them, promptly tow or drive the car away?
These questions must arise following the arbitrary removal of the Sabrina vehicle on Monday night.
Probe the problem and you get this kind of confusion.
Recently a doctor in Harley-street phoned the police to ask for a car to be removed outside his consulting rooms He was told the police had no powers to do so if it was causing no obstruction.
But a High Court judge has said that a stationary car could not fail to be an obstruction because one could not walk or drive over a part of the highway where the car was.

The rules

What has been done officially to clear the air?
Mr. Harold Watkinson. the Transport Minister, brought in new regulations in May last year.
He ordained the following: — Police will be able to require an owner or driver to move any vehicle which has been parked where it causes obstruc¬tion to other people using the road.
From that time any such vehicle could be removed by the police. who must provide safe custody for it.
I see in these regulations no provision or power for the police to remove a car causing petty annoyance at the kerbside to the tenant.

The problem

Broadly, and let's face it, the police can always allege that the car is causing obstruction. They can say that the flow of traffic is being impeded.
But is this good enough? Will the court always uphold the charge?, Or will it dismiss it (for there are many broad streets where obstruction is really out of the question)?
Then has the citizen any right or power to come back at the police?
I am told that if your neigh¬bour removes without per¬mission your goods he can be summoned for trespass to chattels. Would a policeman moving your car in these circum¬stances come into this category?
It is an interesting — in fact, a crucial — point affecting the rights of the 7,000,000 car owners today.
Page Created: 23 Sept 2012
All original content copyright © nylon.net
All Rights Reserved.
This page was last modified: Wednesday, January 20, 2016 2:44 PM