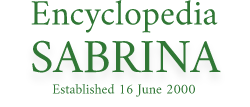 Contact me at Encyclopedia Sabrina
Sabrina is back
with US accent and 7 bits of mink
SABRINA came back to London last night with an American accent, seven mink stoles and a ruby ring on her engagement finger the size of a young strawberry.
She was escorted by a personable 32-year-old New Yorker, Manning Ross , as her director-manager.
Sabrina, who has been in Australia and America for four and a half years, said she bought her own furs and jewellery.
Waiting
Her parents. Mr. and Mrs. Sykes of Blackpool, were waiting In the £15-a-night suite at the Dorchester to greet their daughter Norma.
Travel has not detracted from Sabrina's more obvious charms. At 26, her vital statistics are still 42-18-35.
"Although I think I'm a little thinner," she said, "in the face."
Sabrina is to make a television appearance with Arthur Askey, whose earlier programmes made her name.
"In the old days I was naive," she said. "Now I've come back to prove that I've got something more than just a gimmick."
Page Created: 17 September 2012
All original content copyright © nylon.net
All Rights Reserved.
This page was last modified: Wednesday, January 20, 2016 2:59 PM