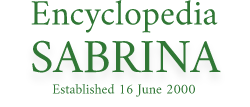 Contact me at Encyclopedia Sabrina
Sabrina Bungled It at Bondi Beach
The Beverley Time s, Western Australia, page 2
5 March 1959
Sydney Diary by George Biaikie
WHAT sort of woman is this Sabrina anyway? Sydney organised itself to make her dreams come true.
She'd been trilling from afar about wanting to see our wonderful surfing beaches and meeting our wonderful he-man lifesavers. It was arranged that she should visit Bondi — "best surfing beach in the world" — and be escorted for an evening by Mr. George Bevan, 23, most handsome of Sydney's lifesavers.
Of Bondi beach Sabrina said: "I am disappointed. What a tiny little beach. Not nearly as nice as St. Kilda."

Heaven protect us! George made equally little impression. Sabrina just wanted to eat steak.
Poor George staggered away saying: "She isn't in the same world as I am."
Page Created: 8 June 2016
All original content copyright © nylon.net
All Rights Reserved.
This page was last modified: Thursday 2023-02-16 11:38