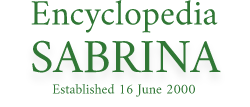 Contact me at Encyclopedia Sabrina
A Beauty who doesn't talk and
One who speaks Hebrew
The Argus (Melbourne) Page 2
Tuesday 5 July 1955
I'm not saying that newspaper editors went out of their way to invent ridiculously irrelevant references to Sabrina but...
No. Actually I am.
Mark - SabrinaMaster

A beauty who doesn't talk and one who speaks Hebrew We've found two girls with beauty beyond words ..

ABOVE, is Sabrina who is the talk of Britain because she hasn't uttered a word since she rose to television fame recently. Sabrina just sat, and looked out of a TV screen at millions of fans, throughout Britain. Sometimes she was just the background for a TV speaker - but always she was paid the salary of a star. Sabrina is now on a five-months concert hall tour -- still not talking, but attracting thousands of lookers.

[BELOW] is Miss Lilly Cannery, who doesn't talk English either. She's Miss Israel for 1955 - that's what it says in Hebrew on the sash.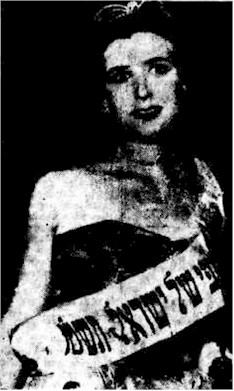 Page Created: 3 November 2011
Last Changed: Wednesday, June 8, 2016 3:17 PM
All original content copyright © nylon.net
All Rights Reserved.
This page was last modified: Wednesday, June 8, 2016 3:17 PM