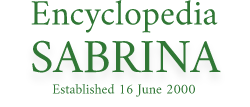 Contact me at Encyclopedia Sabrina
So that's
SABRINA
POST'S candid camera gets a woman's eye view of Britain's blonde bombshell
Australasian Post, 26 Dec 1957, pp.10-11
EVERYONE KNOWS Sabrina's main claim to fame. It's no secret that most men find her intriguing, to say the least.
But what about women? Do they pause to look and wonder with the same concentration?
THEY CERTAINLY DO! EVEN MORE SO! And here's the proof — in camera shots of women as they caught sight of Sabrina at a London ball.
As you can see, they're all VERY interested in the dumb blonde christened Norma Sykes who changed her name and insured her 41in. bust for £125,000.
And it's the same every day. Whenever Sabrina steps out to a public engagement she always draws big crowds — crowds of women.
Is it just curiosity? Or autograph hunting fever? Or are they really interested?
Whether they want to admit it or not, women ARE interested in other women, in the public eye — especially those in their menfolk's eyes!

The only person not taking much notice of Sabrina is the MAN sitting next to her. He's Joe Matthews , her manager. The women crowded around are after her autograph - and a close-up look of the girl who so intrigues their menfolk.

Page Created: 16 May 2018
All original content copyright © nylon.net
All Rights Reserved.
This page was last modified: Monday 2023-07-10 13:58