THE Sabrina story started for me one sunny morning in 1936 — 9.45 a.m . to be exact.
That was when I first saw her, a dimpled eight-pound bundle in the nurse's arms. Even at that age she was beautiful. In fact, a few months later she won £5 in a "beautiful baby" contest in Blackpool.
But I never dreamed then that her beauty would make her a world-famous personality long before her 21st birthday.
People never stop asking me what it feels like to be the mother of the famous Sabrina. All I can say is that it feels no different from being the mother of any daughter who has made you very proud and very happy.
She may be a celebrity to everyone else, but to me she is still my baby daughter, only 22 years old, with hair and skin as fine as on the day she was born.
From childhood Sabrina has always been completely natural in her manner and as good as gold. I have never had to spank her or even tick her off, though I must confess she has had to tick ME off a few times when I have spoken out of place.
I CAN'T mention names, but I could tell you of many beautiful stars, showgirls, and models who conveniently forget Mum once they reach the top.
That's something no one could accuse my girl of doing. As soon as she knew she was coming to Australia she bought two round-the-world plane tickets.
"I'll give you first preference, Mum, if you'd like to come along," she told me.
I badly needed a holiday, so here I am. Wherever my daughter is asked — receptions, parties, dinners — she takes me along, too. I think I help her to feel less nervous and she likes to see me enjoying myself.
Every night I go along to the theatre to help her dress for her show. It's "Where's the blue slip, Mum?" or "Have you seen the white bra, Mum?" all night.
Sabrina designs all her own clothes, but she usually asks my advice before going out somewhere.
"Will I wear the white slacks or the pink?" she asks like any other girl — and like any other girl she ends up wearing what SHE wanted in the first place.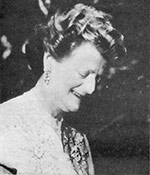 Polio almost destroyed Sabrina's career before it had even started, but a determined mum restored her will to live and started her on the road which led to fame.
On this trip my job is to take care of the slinky model gowns she wears in her act. They are specially made for her in London and cost a small fortune.
One shimmery white sheath is completely covered with millions of glass beads, all hand sewn. It cost over £300. The bill for two of her evening dresses recently came to £1000.
The gowns are not specially built up to make Sabrina's bust look bigger. They are boned the way any ordinary strapless evening dress is boned, but they are made to fit her like a second skin.
I get angry and hurt when people say my daughter must be a freak to have a 41½-18-35 figure. Sometimes photographs give the wrong impression.

If you see her, you will just see a girl with a very nice figure and a full bust. She is a very tall girl, and can carry these measurements gracefully.
The waist slopes in very gradually. Sabrina does not have to use a "platform" or any other support for her bust. She has the same bust as I had when I was a girl — well developed and very high.
All her brassieres are bought off the hook in shops like anyone else's.
When Sabrina was 16 she was junior swimming champion at Blackpool. This helped her bust development. Her ambition at that time was to be an Olympic swimmer.
SHE is still a keen swimmer, but as you can imagine, we can never go on a beach without being recognised. So we try to find someone who will let us use his private pool.
This is part of the price you have to pay for being famous, especially as there's no way of disguising Sabrina.
Don't think she doesn't enjoy the attention, though. Like all pretty girls she is thrilled by admiration, and flattered that people like her.
People admire her blond hair, which she always does herself and is naturally that colour. (She has never been to a hairdresser.)
She never wears anything more than a light elastic panty-girdle and a boned, strapless bra, even under the slinkiest evening gown.
The only truly false things about Sabrina are her false eyelashes. Since most blondes look washed-out without eye make-up, Sabrina emphasises her eyes heavily.
Her skin is fine and fair, but she's getting a bit of a tan in the Australian sun.
With all this beauty my daughter still has to make an effort to look as poised and confident as a world personality should.
This might seem strange to you, but then you weren't there the day she came home from the beach sick.
She was 11 at the time, and I knew right away something was wrong. The doctor looked at her for a long time before he spoke.
"SHE REALLY IS ILL, MRS. SYKES," HE SAID. AND THEN HE SPOKE THE DREADED WORD— POLIO.
Other little girls have had the best years of their lives when they were teenagers. My daughter, at the age of 11, was a cripple.
They took her away in an ambulance and wouldn't let me come with her. I thought of her as a keen swimmer, a beautiful, healthy child—and I wept.
She was in a plaster cast for 12 months. The plaster went all the way to the hip and she could hardly move.
When the plaster finally came off, her leg was quite black. She looked at it and cried and cried. For six months she refused to get out of bed.
For the next three years I tried to keep her spirits up, but it was a grim time, seeing doctors, having operations, moving in and out of hospitals.
When she was 16 she decided to go to London — not to seek a fortune but to get more help for her leg.
Even today she is far from cured. We have been to three Australian hospitals, and each time Sabby started to cry.
"Let's get away from this gloomy place," she'd say.
Recently she did a show for some crippled children at hospital. Halfway through she broke down. "Mum," she said, "I just can't look at those poor children."
It would take months of plastic surgery to fix up Sabrina's scarred leg. That's why she'd rather wear long skirts and try to forget it.

BECAUSE she didn't have normal boy-girl friendships in those important teenage years, Sabrina is still very much of a baby about love and men. Her publicity builds her up as a glamorous sex queen, but actually she is nothing like that at all.
She has been pursued by some very famous men — Prince Christian of Hanover, Steve Cochran, Hugh O'Brian (TV's Wyatt Earp). But the romances have always been one-sided.

She enjoys their friendship and that's all. Love and marriage are far from her mind.
She's very interested in her career, and is always thinking up new ways to make headlines. She's interested in clothes and designs all her own.
Just before she left she talked me into making her 12 pairs of skin-tight slacks in different colours.
Her other big interest is her wonderful new flat at Knightsbridge, near the German Embassy.
It cost her nearly £3000 to fix up. I helped her to decorate it.
The bedroom has a wall completely covered in mirrors. All the bedroom furniture is silver antique. I made the silvery drapes and the quilted lilac satin bedspread myself for her.
The bathroom has two walls of mirrors, a black-panelled floor, and red towelling drapes. There is a cute dressing-table trimmed with white bobble fringe.
All the dining-room furniture is white wrought-iron. Another fascinating feature of the flat is the lift, which goes right into one of the rooms.
You have to have a special key to get in, and if you don't like someone you just push a button and — whoosh! They're back on the ground floor again!
I stay in the flat quite a bit. Most of my time there is spent answering the phone. Sabby hates phones, and won't speak on them.
She is too kind to refuse a date straight out, so she gets me to ring up and cancel the date later.

I HAVE become a terrible liar, but what else can you do when people take a gimmick so seriously? Even the hard-bitten American who signed her on for her U.S. tour made headlines when he said, "Lay off Sabrina, she's only a child." But he spoke the truth.
"I expected a showgirl, and I found a typical English girl you'd be proud to take home to Mother," he told the papers.
Recently we went to the Medical Ball in Melbourne. We stayed till 3 a.m., but no one heard the true story — students had let all the air out of our tyres!
I suppose you wonder why you don't hear me mention Sabrina's father. He is a very quiet, reserved man who prefers to stay at home.
Sabrina bought him a car before she left. My husband knows what I went through in those wretched five years when Sabrina was sick.
He wants me to enjoy myself while I have the chance. Sabrina rings her Dad three times a week. The conversation goes something like this: "How are you, Dad? I'm fine. Are you well?"
She is very good to us both, and would do anything for us. Whenever she has a party she asks me along. Often she takes me with her when she is asked out.
I was present at the wonderful party Winnie Atwell gave the night the Royal Command Performance was cancelled.
The company had been rehearsing all day. At 6 o'clock, just before the tea break, they were told the whole thing was off. Liberace had tears of disappointment running down his face.
Another time when Sabrina was due to meet the Queen, the Queen got the. flu. These have been the two biggest disappointments in her life.
Winnie's party helped to cheer us up.
It went till 6 a.m. Liberace didn't just kiss. Sabrina. He kissed me, too, and I have a picture at home to prove it. He is a very nice person.
So was Winnie's late father, who was there, too. When he died, Sabby was very upset, and sent Winnie red roses with the message: "Our thoughts are with you today."

How has my daughter's success affected me? In a way it has changed both our lives.
We have had our proud moments — like The time when every switchboard at the studio was jammed with calls after her TV appearance. And she had not said one word.
And there was the time the duck was named "Sabrina" after her.
And the time she starred at the Prince of Wales Theatre in London's West End. The show ran 20 months. I sat out front in a lovely emerald-green lace dress with one of her famous minks thrown over my shoulders.
I clapped and clapped. She still asks me to go out front and watch occasionally.
I listen to people's comments, and sometimes I start chatting to them.
"I'm her mother, you know," I'll tell them, and watch the look on their faces. You'd be surprised how many fans she has.
She has been given a purple car to drive here in Australia, with leopard-skin upholstery and a gold "S" on the side."

Her fans have souvenired the glass on the lights. They've wrenched off three little stars and the mascot, tried to screw off the number plate, and taken the aerials and the ashtray.

Thank goodness her English fans are not quite so keen. In London Sabby drives a Chev which also has leopard-skin upholstery.
The number-plate "S41" came from a truck-driver in Scotland, who sold it to us for £25.
Every night fans wait outside the stage door. Sabrina always has a smile, and a wave for them, but she just won't go out with strangers, as you can understand.

ONE fan waits for her every night with flowers. He's just an aeroplane cleaner, but he always waits with six carnations wrapped in brown paper. Sabrina is as flattered as if they were an expensive bouquet.
The same man bought her a huge koala with a musical box in it. He told me he'd got it on time payment.

Has fame got its disadvantages? I'm afraid so. Every night when other people are enjoying themselves we are working. We can never get to see other shows or make new friends.
All our friends are either people we meet in the theatre (and very nice they are, too) or people that these theatre people introduce us to.
We're kept busy with photographers and reporters from morning to night. But on Sundays we relax and stop being Sabrina and her mother.

WE STOP BEING CELEBRITIES AND BECOME FOR JUST ONE DAY — PLAIN MRS. ANN SYKES AND HER DAUGHTER, NORMA ANN, FROM BLACKPOOL.