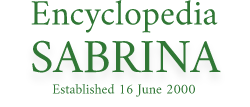 Contact me at Encyclopedia Sabrina
Sabrina in 'Spick and Span'
Extra 14, Spring 1965
SABRINA
Once upon a time there was a most engaging girl who lived in Blackpool and when she was so high and was exceedingly eye-stopping she came to London to find fame and fortune. They told her to be herself and to be sure not to be gobbled up by the wolves she might meet on the way.
Her name was Norma Ann Sykes and she went the long way round and didn't meet any wolves at all, or if she did she poked them in the eye with the tip of her parasol. (If you ever meet any one-eyed wolves you'll know who did it). London fell over itself when she arrived and called her Sabrina and everyone said this was a girl to shape up to the glamour of show biz, which was another way of saying she'd stop the traffic.
And she did.
They photographed her from all angles and Sabrina sure shaped up to every lens in the city, and London held its breath every time she appeared in person or in black-and-white or in colour.
And the fact is Sabrina still shapes up in all the perfection of her glamorous figure and travels the world in cabaret, much to the joy of all who are enabled to cast an appreciative eye at her.
Page Created: November 22, 2002
Last Changed: Monday 2023-07-10 13:58/div>
All original content © nylon.net 2008