JUST about five years ago, a busty 18-year-old blonde from Blackpool, England stepped be­fore the television cameras of the BBC for the first time. She didn't say a word. She didn't have to. Her 39½-inch superstructure spoke for itself.
Since that time, Sabrina has come a long way. For one thing, her measurements have increased to 41½" ("And still growing!" her press releases say.) For an­other, she's now one of the world's highest paid entertainers. But it wasn't until she turned a whole country on its ear and flipped its bearded leader that she scored her biggest success.
Sabrina hit Cuba just after Castro had booted out the Spanish ambassador. She told reporters later that she found Fidel "charming and a very, very exciting person."
Sabrina arrived in Havana amid reports that her career was at its zenith and it wouldn't be long before she was on her up­pers, as they say in Blighty. What her detractors hadn't been count­ing on was the unbridled enthus­iasm which greeted the top-heavy temptress from the moment she stepped off the plane. Big blondes just seem to appeal to the Cubans, who have their fill of sultry senoritas all day long.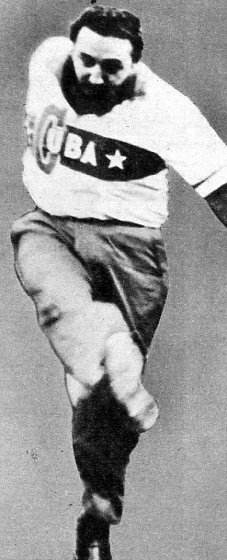 Cubans burned while Fidel fiddled with his guest, doing a snappy cha-cha-cha.
"Sabrina's the toast of all Cuba!" shouted a high official when she'd been there but two days. But that was time enough for England's answer to every­thing to take over the cabinet, impressing the ministers with her knowledge of their country, Castro was her next conquest.
"She has taken our beautiful country by storm!" said Castro of fair Sabrina.
The bewhiskered revolutionary took a long look at her ever-pre­sent curves, muttered something that sounded like "Nikita has nothing like this!" and pro­ceeded to paint the town crimson with his glamorous guest. "Every­one should be grateful for this Bundle from Britain," the Havana press gleefully reported.
The sensational 41 ½ -22-36 stunner came, saw, and conquered the burly headman.
And the Cuban hulabaloo didn't do any harm to Sabrina's career, either. She was deluged with of­fers from all over the world, decided to head for Miami and later New York. Maybe even an American movie, if all went well. "Who says I've gone bust?" she countered to newsmen. After the way Fidel and his followers fell for the sexpot, it'll be a while before those rumors circulate again.