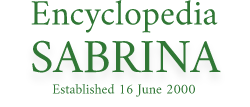 Contact me at Encyclopedia Sabrina
A Lancashire choice to beat the Italian Beauties
Picture Post, 8 January 1955
Not many pictures or much text, but they are certainly good pictures - especially the first picture of Sabrina in nylons! Sabrina's first "Double page colour souvenir"!Thanks to David J for providing these beauties.As usual, click 'em to extract their full Sabrina goodness!
---
The only editorial was:
At the age of thirteen, Norma Sykes was winning swimming championships. Now, at eighteen, this model and jive expert, from Blackpool, challenges the Italian beauties. She travelled to Rome recently, to show that anything the Italian girls can do, Lancashire lasses can do better all round.
Thanks again, David J!
Page Created: May 8, 2003
Last Changed: Sunday, April 10, 2016 1:19 PM
All original content © nylon.net 2008