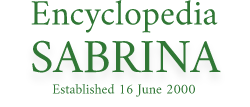 Contact me at Encyclopedia Sabrina
Sabrina's Thoughts on Marilyn
3 December 1955
Not a lot for a $15 magazine! Anyway... the text reads:
Exactly what does Sabrina admire about Marilyn Monroe? "Everything," she says. "But particularly I applaud her courage."
"At first, too many people said she couldn't do anything and she was given terrible write-ups in the papers. I admire the way she fought back and in the end came out on top." Adds Sabrina: "I go to see all her pictures."
Note to amateur detectives: no prizes for "finding the link" for Sabrina's preference for Monroe....."
Page Created: 9 Dec 05
Last Changed: Sunday, April 10, 2016 12:58 PM
All original content © nylon.net 2008