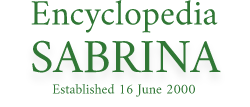 Contact me at Encyclopedia Sabrina
Modern Man's Almanac
June 1956
Thanks to Sir Tim for this tasty SabrinaNugget!
MOST POPULAR TV STAR in England currently proves that English tastes are not much different than Americans'.
She is a girl named Sabrina, whose biggest claim to fame is a 40-inch bust.
As plain Norma Sykes, she began her career by saying nothing again and again in TV appearances. But audiences were not interested in what she had to say but rather in what she had (see photo). Today she is a star and all a comic has to do to get a laugh is just say "Sabrina." Her pinups are as popular in England as Marilyn Monroe's are in America.
Page Created: 26 Aug 2014
All original content copyright © nylon.net
All Rights Reserved.
This page was last modified: Sunday, April 10, 2016 1:25 PM