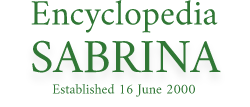 Contact me at Encyclopedia Sabrina
Russian Dressing
Man's Epic , June 1971
Sabrina came all the way from Moscow to see the N.Y. ' BRIGHT LIGHTS .'

Thanks to Simeon for removing the bifurcation in Sabrina's torso in the big picture!
Interesting! This is the very last time Sabrina would have been seen in a magazine. The editors must have been really digging into the archives to find these pix.
The other interesting thing is the reference to Moscow. When did go there, and what on earth does the "article" mean?
---
11 July 2008 - The 'Russian' solution at last! In a puff publicity piece published in 1965 for Sabrina's appearance in Pajama Tops (sent by Sabrina herself in her first scrapbook contribution) we read that Sabrina's appearances include the " Colonial Inn in St. Petersburg"... which is in Florida , not Russia!
Page Created: 20 March 2006
Last Changed: Tuesday, October 11, 2016 5:00 PM
All original content © nylon.net 2008