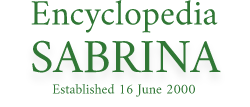 Contact me at Encyclopedia Sabrina
It's Too Hot For England!
Everybody's - 4 September 1963 (Australia)
Part of the SIR H collection
SABRINA has gone one step further than even Christine Keeler or Marilyn Rice-Davies — she's got herself banned in Britain. The British Board of Film Censors has given the thumbs down to her latest film, "Satan in High Heels," on the grounds that it is "immoral and vicious."
According to the censors, the film contained "considerable elements of sexual sadism and sexual perversion-as well as an important sex scene which would be completely unacceptable to this board."
Besides some revealing costumes worn by Sabrina (see example on left), the board was objecting to a scene showing American actress Meg Myles swimming in the nude.

Sensitive

In New York, Leonard Burton, producer of the film for Vega Productions, blamed the refusal of a British certificate on "British sensitivity following the scandals which came to light in London as a result of the Profumo disclosures." Burton said that, after the censors' first refusal, Vega Productions' London representative telephoned the board for further details and was told — in the censors' own words — that the film was "immoral and vicious and was concerned with greedy and ruthless people." Mr. Burton is frankly amazed at the British reaction.

Tough

"The film ran in Chicago, which has one of the toughest boards in the United States, and there wasn't a whisper of protest. "The New York Board of Regents, which is also known for its strictness, passed it without a single cut."
What's the film all about?
According to Vega Productions — it is "the story of the rise and fall of Stacey Kane, a boldly ambitious, cunning, and beautiful girl."
Sounds like pretty tame stuff after Christine and Mandy.
Page Created: 18 March 2006
Last Changed: Sunday, April 10, 2016 12:11 PM
All original content © nylon.net 2008