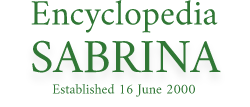 Contact me at Encyclopedia Sabrina
Sabby becomes
a mermaid
Australia Women's Weekly
1 April 1959
Sabrina has taken to the water in Sydney like a mermaid - fishing, sailing, cruising and swimming.
On the M.V. Noela as the guest of skipper John Barraclough, she wore a royal-blue yachting sweater presented to her by radio man Jack Davey as a trophy for she sharks she did not catch on a recent big-game fishing expedition outside the Heads.
The cats on Clark Island intrigued Sabrina who went ashore to make friends.
Fish that got away were pursued with a net by Sabrina, who almost went overboard for a catch. Sabrina was a champion schoolgirl swimmer.
Sabrina took her turn at the wheel and handled the big cruiser as expertly as her sportscar.
At sea: Skipper John Barraclough (left), Sabrina, and her South Australian manager, Ray Bolwell, enjoy drinks on the deck.
Page Created: 28 June 2009
All original content copyright © nylon.net
All Rights Reserved.
This page was last modified: Friday, January 1, 2016 12:19 PM