Great Britain's top glamour photographer has a trim beard, long slender fingers and the happy name of Russell Gay. He is a photographer who looks like an artist and is as British as roast beef and chutney sauce.
He is also a 'curve prospector' whose field work has led him to uncover some choice nuggets as Britain's sex symbol, Sabrina, and many other 24-carat damsels who have subsequently used Gay's film as a passport to fame.
Tantalizing beauty of Sabrina, caught by Gay's camera for film magazine rocketed book's circulation by 30,000 copies in month. Nine out of ten models will pose nude, says Gay.
Most of the unknown girls Gay numbers among his finds have become professional models after he has shown them their own potentialities. "Most of them are salesgirls, secretaries, or housewives," and all of them are highly flattered by the suggestion that they might be good models. I've never had anyone object to doing pinups, and nine out of 10 will do nudes as well after they've had a little experience. The ones who stop short at finality usually have a boyfriend or husband who threatens to take a poke at me for what he seems to think is an attempt at seduction!"
Although his glamorous glossies now go out to every corner of the globe, Russell Gay is best known to the English public as the creator of Sabrina, the sex bomb whom the British regard as the twin-peak epitome of feminine allure.
When first she modelled for Gay, Sabrina was just plain Norma Sykes, and nobody had ever heard of her. "Even Sabrina would be the first to admin that she was a bit on the fat side in those days," Gay says, "but no costume could disguise the fact that her 40-inch bust was going to have far-reaching repercussions."
Acting on Gay's advice, Sabrina took plenty of exercise and stuck to a rigorous diet. Soon the rest of her figure became photographically manageable as the routine whittled her down to pinup proportions without endangering her chief asset. With her upper storeys thus emphasised, one of Gay's pictures of her on the cover of a British film magazine rocketed its circulation by 30,000 in a single month.

[Actually, I believe this is the first Sabrina cover - from 1954. Ed]
Although Gay and Sabrina have done much to further each other's careers they have not always been on the most friendly of terms. Like Marilyn Monroe, Norma has an embarrassing but well-padded skeleton in her closet in the shape of the nudes she posed for before making her debut as the sexy by sweet Sabrina. One of these nudes turned up on the five of spades in a deck of playing cards for which Gay provided the 52 alluring illustrations.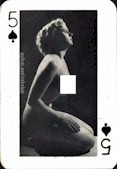 [The card is not shown in the article. Click it to read up on the nudie story]
When card players all over England began doing tricks with her nude body Sabrina exploded via her lawyer. Writs flew thick and fast until a mutual friend persuaded the artist and the model to get together and settle their differences amicably. With every one of her 40 inches quivering with indignation, Sabrina turned up for the pow-wow ready to give Gay a piece of her mind - although her publicity agent had been building her reputation on the claim that she has little or no mental development.
It says much for Gay's talents as a diplomat and for his consummate skill at handling temperamental models that he had her eating out of his hand within half an hour. He had only to make one concession: to keep the offending nudes out of circulation. Since they buried the hatchet, Sabrina and Gay have renewed their friendship, to the delight of their fans.
---
"French models are unbeatable when it comes to posing," he says, "but I have yet to find more than one or two who have the figures and faces to match their posing skill."
"With Italian girls there is a strong tendency to be much too heavy in the face to measure up to my particular standard of beauty."
"German girls are probably the sexiest in Europe but they haven't the remotest idea of how to move their limbs."
Full-bodied Sabrina , who possesses 40-inch bust, first modelled for Gay as Norma Sykes. Gay is credited by English public with discovering Sabrina.