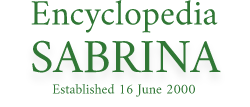 Contact me at Encyclopedia Sabrina
Banners and Buttons
Fancy linking to the famous Sabrina Site? Right-click on any of these images and select "Save Image As..." (or whatever your browser does) and pop it into your own page.
Add a link to http://nylon.net/sabrina and Bob's your builder.
And many thanks to you all for your support of Sabrina...
heaven knows, she needs it!





Page Created: March 23, 2003
Last Changed: Tuesday 2022-04-12 10:57
All original content copyright © nylon.net
All Rights Reserved.
This page was last modified: Tuesday 2022-04-12 10:57