Just as I have been hoping to collect all the Iron Chef episodes, I have also yearned for a full collection of the BBC radio show Just A Minute, which has been running continuously since 1967.
It is led by Nicholas Parsons: the unaware, dyslexic, tongue-tied, browbeaten, joke-missing bumblepuppy chairman whose earnest belief in his own genius for mimicking accents continues to cause countless biting and sardonic responses from the panel.
His regular guests included: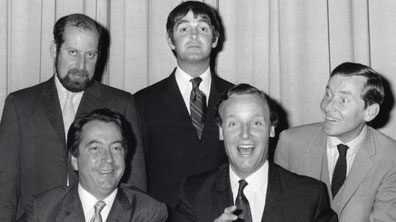 Above: the JAM original regulars: Clement Freud, Ian Messiter (the show's creator), Derek Nimmo, chairman Nicholas Parsons and Kenneth Williams. Only Nicholas remains.
acidic, lugubrious Clement Freud (grandson of Sigmund, mellifluous, cunning, competitive, pompous, sarcastic)
fey Kenneth Williams (complex, repressed, uncontrollable, tormented, insufferable, pompous, delightful)
delicate Derek Nimmo (childlike, childish, monastic, bombastic)
tagline-champion Peter Jones (who never got the hang of the rules over three decades)
sharp Paul Merton (verbose, jealous of educated folk who did French instead of metalwork, brilliantly fluent, brutally competitive, sharp as a Liverpudlian razor gang)
Hundreds of irregulars include Graham Norton, Stephen Fry, Jenny Eclair, Linda Smith, Julian Clary, Tony Hawks, Tim Rice, Ross Noble, Gyles Brandreth, Kit Hesketh-Harvey and even Pope Paul II (though this episode was never broadcast due to the Suez Canal crisis).
It seems the producers have learned the successful recipe for each show. You need:
at least one camp character: Kenny Williams (1968-1988) and also Graham Norton, Stephen Fry and Julian Clary and others were always ready to leap up from behind and fill the gaping hole in every show. Oooh, errr!
at least one steam-of-consciousness surreal improv artist (usually Paul Merton, Ross Noble, Tony Hawks) to take a topic from the mundane to the gloriously ridiculous. This is where Nicholas earns his stripes: he knows the value of his panelists and lets them run with what works.
at least one member of the Freud family (on one episode Clement's daughter fared bravely)
a female whistle-blower or panellist whom, it seems, Nicholas vainly and constantly tries to seduce, to the amusement of all.
There were some TV shows of JAM in 1999 which broke all of these rules and, as a result, did not survive. Fools