17 Oct 2016 - Donald Trump appears on Iron Chef. Threatens to arrest Chairman Kaga! (Kidding)
25 June 2016 - No feedback so far about the new episode download method, so I'll assume it works. The old download folder will be phased out when it's empty.
17 June 2016 - I'm exploring a new way to share Iron Chef via Mega.co.nz. I'll phase it in and see how it goes.
9 May 2016 - Mandy, at the Flamola Kitchen Stadium Forum reported that Iron Chef Japan featured in USA TV's Jeopardy on 8 March 2016 - a $600 question! There is no information about whether Watson or any human got the answer right. But WE DID! Didn't we? Allez cuisine!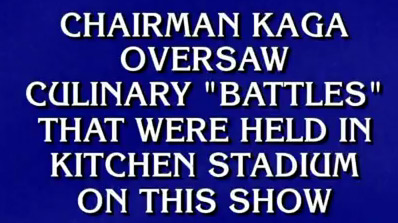 12 May 2016 - In the most recent Masterchef Australia elimination round, a contestant failed to guess that an ingredient whose name began with "U" was Umeboshi. Of course we who have studied Pickled-Plum (Umeboshi) [ep092@19950811] Michiba&Kaji laughed into the sleeves of our kimonos at his ignorance! You poor pickled plum fool! Bwaahahaha! All the more reason to study at the university of Iron Chef! Also, it is not until now that I have realised that leaping to one's feet, thrusting an accusatory index finger at the TV and yelling "It's ume-bloody-boshi you bastard!" tends to disturb cats, fellow residents, and neighbours.
11 May 2016 - You can now access the Iron Chef Exchange via the URL ironchef.org. Yay!
10 May 2016 - Contributor Dugan has requested some vegetarian episodes, so we'll be serving up some mango and other treats in future weeks. 2 May 2016 - SBS Australia is occasionally showing 2 ICJ episodes a week, but sadly there is no new or better content in them.
12 March 2016 - I've been looking into more generous web hosting plans, but they are double the cost of my current host.
23 Feb 2016 - Well, that didn't last long. After about 2 or 3 (recently-repeated) episodes, the SBS supply of ICJ has stopped once more.
10 Feb 2016 - I bet you missed this event! As usual, Kobe looks like the other chefs are poking him with chopsticks out of frame. Bad junior Chen. Bad!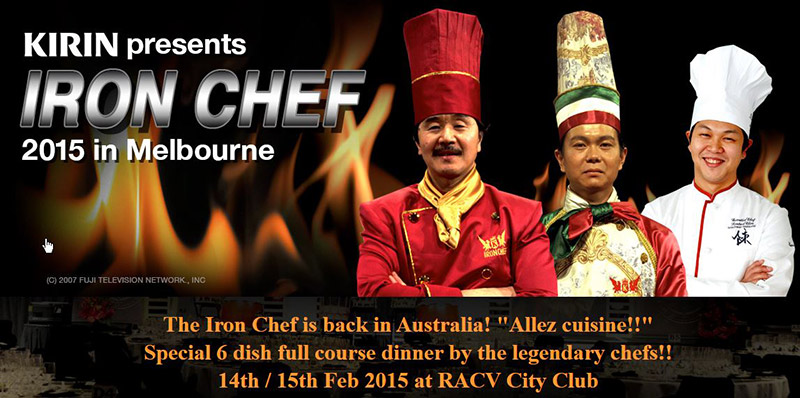 "The culinary genius of the legendary Iron Chefs Hiroyuki Sakai, Katsuhiko Kobe and the eldest son of renowned Iron Chef Kenichi Chen, Kentaro Chen, who all have frequently demonstrated their presences in the "Iron Chef" - a Japanese Cooking Program with extremely high rating are back in Australia for another extravagant event. This time in Melbourne hosted in the RACV Melbourne Grand Ballroom. Don't miss a chance to meet the worlds famous Original Japanese Iron Chefs in person!
Enjoy this magnificent event with A SPECIAL FULL COURSE DINNER provided by The Iron Chefs with specially selected matching premium wine and sake by Executive Sommelier Masahiko Iga. At Iron Lounge, you will also be able to relish KIRIN BEER BAR and SAKE BAR, drinks plus seasonable canapés by Mark Normoyle (RACV Executive Chef) and Ikuei Arakane (Executive Japanese Chef). You can also experience various Japanese cultural entertainment with great performances by the professional Japanese calligrapher (Shodo) Junko Azukawa, the Koto player Brandon Lee and more during the event.
2 Feb 2016 - I've been uploading Iron Chef episodes for a long time at my own expense for years. I think it's time for the international ICJ community to help out. From now on, I'll upload one episode every time someone donates $US1 to the cause (with a limit of about 6 episodes at any given time - unless someone is really generous and I can afford a hosting plan with more storage space). If you really like IC - as many people have said - $1 is not a lot to prove it.
24 Jan 2016 - SBS Australia is broadcasting Iron Chef again, on Sundays! I doubt there will be any new episodes on offer, but it's nice to see it back.
5 Sept 2015 - I don't want people to panic, but SBS Australia has stopped broadcasting Iron Chef. They do this from time to time, but this has been going on for several weeks. Fear not, because none of their recent broadcasts have been new or interesting: the same shows repeated every 6 months or so.
8 July 2015 - Found an appearance by Morimoto on Hell's Kitchen in 2010. See Morimoto's sushi appearance (19MB, MKV)
9 May 2015 - I'm introducing a new system to cope with inexplicable upload failures every 2 hours.
8 May 2015 - Time marches on, and DivX/AVI has had its day. From now on I'll be encoding Iron Chef episodes as H.264 video in MKV containers.
3 May 2015 - UPLOADING PROBLEMS CONTINUE - every 2 hours my FTP connection dies and uploads restart from the beginning. Soon, I'll have to upload files in small chunks (RARed) so they will each transmit within the cutoff window. You will have to go to the upload folder and grab the several parts and reassemble them. More details soon.
10 March 2015 - Morimoto was born in May 1955 - he's nearly 60! Dammit to hell.
23 August 2012
Newsflash! Iron Chef Show Returns to Japanese TV - posted on 2012-08-23 14:55 AEST
The Japanese television station Fuji TV has revealed that as part of a strategy to boost ratings, it will broadcast a remake of the Iron Chef television program on Fridays at 8:00 p.m. The original Iron Chef aired on the station from 1993 to 1999.