Thursday, 12 April, 2001, 12:32 GMT 13:32 UK
Sir Harry Secombe dies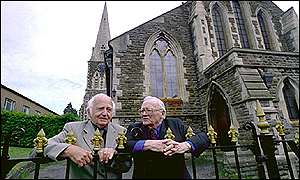 Sir Harry (r): One of the UK's best-loved entertainers

Sir Harry Secombe, famed for his work with The Goon Show, has died aged 79.The performer died in hospital in Guildford, Surrey, from prostate cancer with his wife, Myra, at his bedside. The Secombe family said in a statement: "We are grieving for a wonderful man, and a much loved husband, father and grandfather."

A statement from Prince Charles, a long-established fan of the Goons, said: "I was deeply saddened to learn of the death of Sir Harry Secombe, to whom I spoke only recently in hospital. "He was one of the great life enhancers of our age and gave pleasure and constant happy laughter to so many of us throughout his life."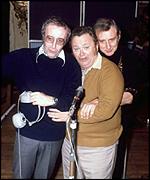 Sir Harry pictured with Peter Sellers (left) and Spike Milligan (right)


Fellow Goon Spike Milligan paid tribute by saying: "I grieve for an unbelievable friend." A funeral is planned for next week and a memorial service will be held later in the year. Sir Harry had suffered from health problems, including diabetes and a stroke, and he announced his retirement from showbusiness in 1999.

During his last few months Sir Harry found his eyesight failing and he had suffered some paralysis down his left side. During a BBC One tribute screened last year he pointed out that he should have been in a wheelchair but wanted to remain as active as possible.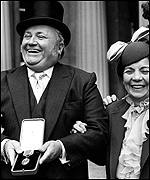 Sir Harry was delighted with his knighthood


"When I did the This Is Your Life special earlier this year I was determined to walk on to the stage rather than be wheeled on," he said at the time. "I'm also having hormone injections, which have a very strange effect on your body," he said in a mock camp lisp.

Sir Harry said he learned how to make people laugh as a child.

"Because I had poor eyesight I had to wear glasses and was worried about getting bullied," he said. "To make sure this didn't happen I started being the fool - and it worked." He went on to become one of Britain's best-loved entertainers.

Charity work

The veteran comic rose to prominence on BBC radio with his work on the Goons, and was knighted in 1981. The Goon Show, which also starred Spike Milligan, Peter Sellers and Michael Bentine, was first broadcast in 1949, and enjoyed a nine-year run.

As well as counting Prince Charles among its fans, Beatle John Lennon was also known to tune in to enjoy the show. Sir Harry later became known as a singer and frequently appeared at the London Palladium between 1956 to 1966. He appeared in several films during the 70s, including the musical Oliver! in which he played Mr Bumble.

More recently, Sir Harry, a committed Christian, presented the Sunday night religious programme Highway on ITV as well as Songs of Praise on BBC One. He had also been involved in charity work for organisations including the Army Benevolent Fund and the Stars Organisation for Spastics. The Harry Secombe golf classic was first held at Ifield in 1967, and has since raised £250,000 for the physically and mentally disabled.