Found in 2015, a magazine ad for the Sabrina At Home short
---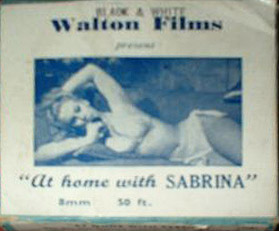 Film cover's picture found on eBay - 4jan05
Though the indefatiguable efforts of Lord Reg (Companion of the Order of Sabrina), we proudly present AT HOME WITH SABRINA- a four minute black and white silent film that Reg cunningly acquired through eBay, got transferred to DivX on CD and sent post haste to the Sabrinastuff site.
As mentioned, there is no sound track, so to enhance your SabrinaPleasure I have dubbed on just about every reference to Sabrina in the Goon Shows... what more pleasure can one hope to obtain on this planet?
So, sit back, draw the screens, click this link (WMV, 5M) and watch Sabrina make tea, vacuum, sunbathe, lean out of windows, bend over while gardening, talk on the phone and take a Sunday drive.
BOOBS contributors get to enjoy the top-quality 75 Megabyte version by clicking the key below

Yes - it's a BIG clip, but she's a BIG girl, and does an awful lot of bending over!