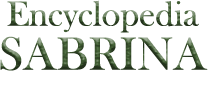 Contact me at the Sabrinastuff Site
Sabrina on the Late Show,
Melbourne 1958
If you are a VIP
B.O.O.B.S. member
, when you see the gold key it means there is supersized Sabrinastuff just for you!

Thanks to the eagle eye of Sir Chris Keating we have a collection of photos of Sabrina's appearance on The Late Show with Bert Newton in Melbourne in 1958. Transported in Vauxhall luxury (it even has a push-button radio!), Sabrina was the highlight of the show, along with some buck-toothed cowboy whom I cannot identify.
Sabrina arrives in style and the crowd goes wild
Sabrina and Bert Newton
Who is this chap?
Another unknown chap
Many unknown chaps
Golly. What a lot of smily chaps there are when Sabrina is around

The Hickory Dock must have been a nice place for a young chap to lurk... but why?
The shop is in Camberwell, Melbourne, and was established in 1946...
Their website says, "PERSONAL FITTING SERVICE JUST FOR YOU.
At Dickory Dock our personal fitting service is an elegant alternative that ensures your bra will give you the utmost support, comfort and is perfectly suited to your individual shape. Every woman is different. Our team of skilled corsetieres can work wonders with all shapes. With a range of sizes AA-J cups, adjustments are made on the premises to provide you with a bra that makes you feel and look your best."
So that explains Sabrina's visit! If anyone needed expert handling of her - um - err - cough - professional equipment, it was she.
Page Created: 18 July 2014
Last Changed: Wednesday, October 12, 2016 1:13 PM
All original content copyright © nylon.net
All Rights Reserved.
This page was last modified: Wednesday, October 12, 2016 1:13 PM