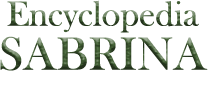 Sabrina Insurance Picture Page
Do YOU have any Sabrina stuff?
If you see this icon

click it to see the extra-large image - if you are a BOOBS contributor.
On 1 February 1957, Sabrina was wise enough to ensure the tools of her trade against shrinkage - for £UK100,000.
[In modern money - £UK2..4 million, or $US3.2 million]
On another occasion, this determined lad dared to lay hands on the chestical regions of our Sabrina for reasons indisputably nefarious. We know not was the occasion was, but we can guess his ulterior motives. I guess his scowl was because his wife was in attendance, and glaring with maximum displeasure.
The press blurb on the back reads:
1-2-57. SABRINA INSURES HER FAMOUS BUST - FOR £100,000.
SABRINA who made a name for herself as a "dumb" blonge [sic] -- with a big bust - has insured that bust for £100,000. She has broken away from the dumb tag and is now making records and personal appearances as a singer etc..
KEYSTONE PHOTO SHOWS:- SABRINA 'measures' her bust for insurance purposes - this afternoon. JSS/KEYSTONE. TF/667449.
Jump to a sad story about this photo.


With John E. Keevil, Insurance Agent
Read about Sabrina's supposedly 'magic' tape measure
A sad story
In December 2010 I found on eBay an original vintage copy of the first photo shown above. That version was taken from the ad on eBay just in case I didn't win the photo itself. I won the bid and it arrived yesterday. Unfortunately...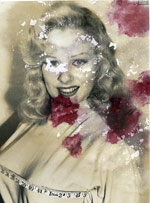 (Click to see the full horror)
It wasn't the seller's fault: it was packed well. The package had got soaked somewhere between Serbia and Melbourne and mould had started blossoming on the surface.
All original content copyright © nylon.net
All Rights Reserved.
This page was last modified: Sunday, September 17, 2017 1:42 PM
How you can support Sabrina.
Last Changed: Sunday, September 17, 2017 1:42 PM