18 March 2006 - normal image now supersized and BOOBS version also available, thanks to Sir H



There was an interesting stamp on the back of this photo...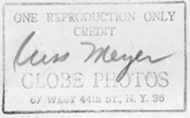 Russ Meyer, renowned tits-man and director/producer of the classic arthouse film Faster Pussycat, Kill Kill!, bragged that he shagged all of his models. Did he take this pic, I wonder?
Same shoot, I suspect, with the shagpile cut out
I suspect the shot above was very popular with the magazines!

Thanks to David Jackson again for this nice pic. He says it was from an American mag called 'Comedy' Vol 8 Number 56 from November 1960. Thanks, David!
Actually, I've just noticed it's a flipped version of sabrina-blackcorset4...



From Sabrina, Beautiful Britons #20, June 1957, thanks to Sir David J
Bolero magazine, 1962


A lovely find - a 35mm colour slide from a series found by Scott P. Thanks, Scott!
I toned down that magenta cast in the full-sized and BOOBS images...


Is there a difference between the first two coy shots? The lips look a little more pursed in the second pic.


VIP B.O.O.B.S. members can click the key to get the 1.3M mammoth unwatermarked version of the middle picture.
'SABRINA AGAIN'
ceguah said: Second photo of "Sabrina again"
The original caption read: 'The TV star's measurements have changed recently from 39-24-37 to 40-23-36. We wonder where it will all end.'
[Probably at 41½-18-36]